BRMCオフィシャル・ニュース
より
We're doing a limited run of hand-screened and numbered poster prints using featuring some artwork from our recent run of dates in Mexico and South America. Only 100 are being made and we'll be randomly signing 20 of them. The poster is available for pre-order now from our
Web Store
and will be shipping in January. Make sure to order yours before they're gone.
Baby 81
and
American X: The Baby 81 Sessions
are also available on vinyl now with special editions only available through our site, along with a
Collectors Bundle
that includes both vinyls, an exclusive shirt and scratch mat.
BRMC Facebook
より
We had this poster done for our dates in Mexico and South America. Each one will be hand-screened and numbered - and there are only 100 of them. You can pre-order it now, they will be shipping out in January. We will be signing 20 of them and will randomly put them in the stock before the ship. Thanks so much to everyone that came out to our shows this year.

South American 2011 Poster -BRMC Official Online Store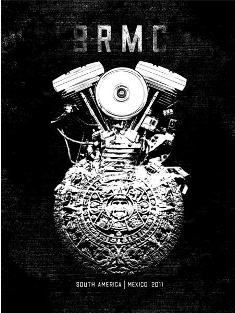 ※当サイト掲載リンクからの購入トラブル等、一切責任を持ちませんので予めご了承下さい。