2012年04月22日
posted by funa at 10:49|
Comment(0)
|
TrackBack(0)
|
BLACK REBEL MOTORCYCLE CLUB
|

|

2012年04月21日
BRMCオフィシャル・ニュース
より
We're saddened by the passing of our dear friend Levon Helm. Our thoughts and prayers are with his family during this difficult time. There was an indescribable grace and humility that Levon carried with him not only as an artist but also as a man. Everyone that knew him had their lives enriched by his spirit, he was one the last true greats… Better start praying that they make some more just like him, or we all better start making more of ourselves. With love and respect Robert-
posted by funa at 09:59|
Comment(0)
|
TrackBack(0)
|
BLACK REBEL MOTORCYCLE CLUB
|

|

2012年04月12日
BRMCオフィシャル・ニュース
より
For the first time since it's release almost 10 years ago, HOWL will be available on vinyl starting April 21st, 2012 – National Record Store Day. Simultaneously, this will also mark the first ever vinyl pressing of The Howl Sessions.
Arguably the most discussed and revered album in BRMC's catalogue, HOWL was marked as a critical turning point in the band's career and features fan-favorites such as "Ain' t No Easy Way," "Shuffle Your Feet," and "Complicated Situation," as well as the "Mercy" and "Wishing Well" off The Howl Sessions.
The re-release of HOWL will come on heavyweight recycled color vinyl in a double gatefold that features all the artwork from the original UK Only limited edition pressing (2005) including new artwork in the gatefold. The Howl Sessions comes on a special limited edition Picture Disc and features an extended version of "Mercy," an alternate version of "Sympathetic Noose," and the never before heard song "Heaven" which was recorded during the Howl Sessions.
Both the HOWL limited edition color vinyl and The Howl Sessions picture disc are exclusive to the Official BRMC Site.
The Collector's Bundle features both HOWL and Howl Sessions, along with a limited edition Leather Bound Jouranal with a pencil and special Reversible T-Shirt. The shirt features the classic Howl Collage Cover on the outside, with a hidden inside print that reads "Time Won't Save My Soul." There are only 150 of the bundles available.
Fans will also be able to purchase a set with just the two vinyls, as well as the choice to get the records individually.
The shirt can be added to any vinyl order.
Included with the purchase of the Collectors Bundle, the Vinyl Set and the HOWL Vinyl will be an instant download of a special Needle Drop Recording of HOWL taken from the original 2005 UK Release done by PBTHAL. One of the premier underground needle droppers active today, PBTHAL raises the craft of vinyl ripping to the level of audiophile artistry. He extracts every bit of detail out of record grooves and turns them into digital files using a handpicked stack of analog and digital gear and finishes the digital with the analog integrity preserved. HOWL marks the first time PBTHAL has crossed over from the gray to make his work available in such a public forum.
Pre-Orders of the Collector's Bundle and the Vinyl Set will come with an instant download of the previously unreleased cover of Moby Grape's classic song "I Am Not Willing" that was recorded during the HOWL recording sessions.
All physical items will ship on or before April 21st
BRMC "HOWL" and "Howl Sessions" Vinyl Pre-Order
2005年にリリースされた3枚目アルバム"HOWL"と翌年限定リリースされたミニアルバム"HOWL Sessions"のアナログ盤が、4月21日 - National Record Store Dayにリリースされます。
現在オフィシャル・サイトではプレオーダー受付中。
コレクターズ・パッケージ(下写真)は数量限定ですので、お早めに!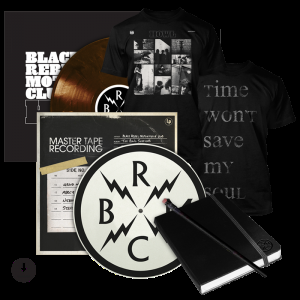 posted by funa at 20:35|
Comment(0)
|
TrackBack(0)
|
BLACK REBEL MOTORCYCLE CLUB
|

|